Becker Sling
General Information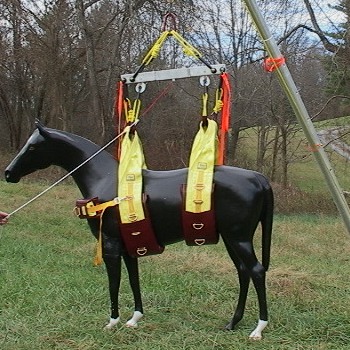 The Becker Sling is a simple vertical lift system designed primarily for short rescue evolutions extracting large animals from culverts, swimming pools, cisterns, and any other situation where lifting the animal is necessary to place them in a safe location. Most frequently the sling is ordered as an "Out the Door" option which includes everything one needs "below the hook" as well as a shipping/storage container and ground shipping (United States) to your facility. This option is good for government agencies or rescue groups receiving grants for equipment.

(Not shown in the picture to the left is the supplied rear strap.)
We began production of our sling in 2004. Over the years we have made numerous improvements in features to better accommodate an evolving and more sophisticated market. The Becker Sling is available with either a Standard Spread Bar or our Instant Release Spread Bar which is shown above. While our "Regular" sized sling is the most popular, we can also produce sling sets in a variety of sizes to better suit different animals that may be most frequently encountered. Check the sizing chart at the bottom of this page to select the most appropriate sized sling. Most agencies will order a complete sling package. However, we can make and sell any portion of what is seen, or make custom parts as requested for more specific applications. Often this is no more expensive than our standard products, so please do not hesitate to inquire or receive a quote on your needs. All of the components of the slings have been "rated", meaning that they either have published load ratings or have been independently tested. For this information, please go to our EDUCATION page.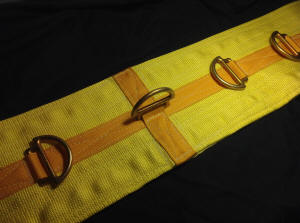 Each body sling has 9 D rings spaced throughout the sling. These D rings accept both the chest and rear straps. They may also be used for tag lines or other accessories that may be needed during a rescue evolution. The center D ring has been rotated 90 degrees to better accept attachments along the midline for future enhanced features that will be made available.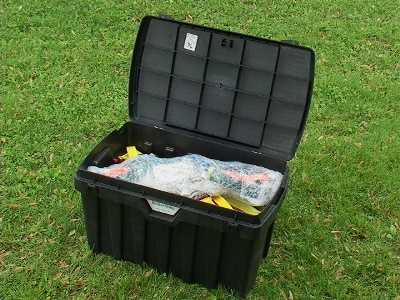 In our "Out the Door" option, the sling is shipped in this shipping/storage container. This particular box is often used by the military for their logistics. As of May 2019, this replaces the Rubbermaid container that was discontinued by the manufacturer. However, we actually like this one better! It's a bit larger and has better waterproof characteristics if caught in a rain storm. This company also offers a wheeled cart, but we have not yet ordered one. If a wheeled cart is desired, contact us.

Sizing Chart
Sling Model
Weight Range
(pounds)
Webbing Width
Front Sling
Rear Sling
Pad
Mini
200 - 400
4 inches
6 feet
6 feet
6 x 32 inches
Medium
400 - 700
6 inches
7 feet
7 feet
8 x 42 inches
*REGULAR
700 - 1500
8 inches
8 feet
8 feet
10 x 52 inches
Large
1200 - 2000
8 inches
10 feet
10 feet
10 x 52 inches
X Large
1600 - 2400
8 inches
12 feet
12 feet
10 x 52 inches
Camel
700 - 1800
8 inches
12 feet
10 feet
10 x 52 inches


Ordering a sling is easy. Simply go to our ORDER Page and fill out the needed forms and fax or e-mail us the information. If you don't see the exact size on the form, just write it in and we will be sure to contact you with a confirmation of pricing before the order is filled.