Tripod Rescue Frame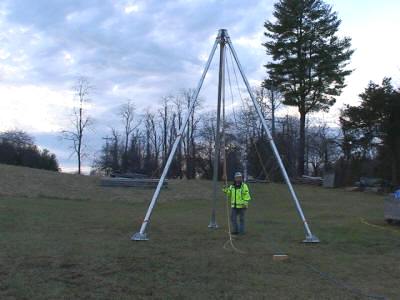 Our Tripod Rescue Frame represents the most stable frame of the three we offer. The obvious advantage is that it can be set up and not require any remote rigging in order to lift an animal underneath. When fully extended, the overall height is about 19 feet. There are two different methods to put up the tripod. The method we used here at Häst, which required only two persons, was to tilt the tripod up at its lowest height, and then, using rigging lines at the top, "walk" the tripod up one leg at a time in 1 - 2 foot increments. The other method is to raise it like a bipod, which takes a team of persons working together, making sure the two feet on the ground are not allowed to slip while raising.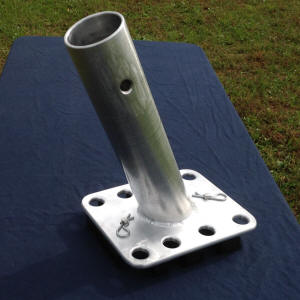 For years we sold our tripods with 2 Bipod Feet and 1 Monopod Foot (see Frame General Information). The idea was that the tripod would most likely be just one configuration option along with a bipod and/or monopod, as in our Trifecta Frame package. However, we have found that some agencies may want to purchase ONLY a tripod without needing options for a bipod or monopod. For those customers, we developed a non-articulating Tripod Foot that brings a savings of about $1600 overall. Like the monopod and bipod feet, this comes with a pad for elevating it off of a hard surface such as asphalt or concrete.
Like our bipod, our tripod can be made in any stance from a narrow based Model 16 up to a wide stance of our Model 30. We have found that the best stance for most applications is our Model 24. If the tripod is being ordered as part of a Trifecta which would include a Bipod, the stances of both the Tripod and Bipod should be the same for parts to be totally interchangeable.

Our tripod packages come with a chain kit included, as its use on hard surfaces is very likely. If the expected loads encountered are those of typical domestic animals, our Regular Chain Kit is sufficient. However, if loads above 4,000 pounds are expected, please advise us to upgrade to the HD Chain Kit.

All of our frames are made to order. Because of that, please allow a lead time of up to 60 days on frames, depending upon how many we might have to produce at any one time. In addition, because frames are shipped via common carrier on a truck, we have to build a shipping crate for safe transport. If you have any questions, please do not hesitate to ask!

To order a tripod or other frame, please go to our ORDER page. Please specify the stance that you would like and select any other options as needed.