Flat Strap Guide System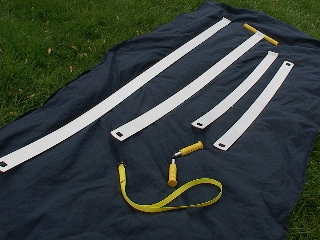 Strap Guides are used to pull ropes or webbings underneath a downed animal. The guide is introduced from one side, most likely from the animals back, and advanced underneath until the tip is presented on other side. Then the rope or webbing is attached to the tip of the guide and pulled.

Our guides are available in three lengths, 8 feet, 6 feet, and 4 feet. The six foot model is shown with handles attached. The four foot model, which is very portable and can be carried in an automobile, is available with a handle like the longer guides, or with square holes on both ends. All have a gentle arc for easier passage under the animal.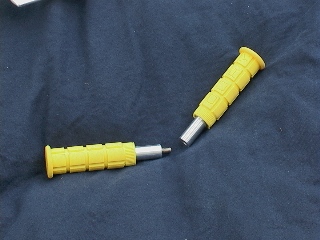 Detachable handles are provided on all three lengths. They simply insert into the tubing at the end and with a few twists are quickly secured to the end of the guide. These can also be purchased separately and are the same handles that are found on our Needle Guides.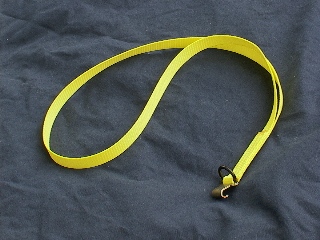 This handy strap is also provided with a guide system. As seen below, on one end of the strap there is a clip. This clip is placed into the square hole of the guide after the guide is pushed under the animal. One can have some rope or some webbing pre rigged to the loop so that it can be quickly pulled. The strap is a little over two feet long providing plently additional room to stay out of the "kick area" of an animal.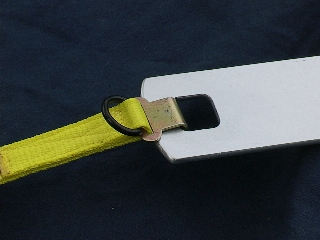 Here is a close up of the clip and how it fits into the square hole at the end of the guide.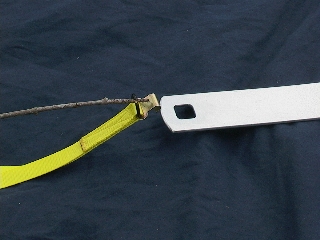 The little black ring is used to place the clip into the hole while remaining a safe distance from the end of the guide. In this case, we used a "tool of convenience" in the form of a stick that was near by.

All parts of the Flat Strap Guide System can be purchased à la carte. For example, if you would like to purchase all three lengths of guides, but only need one handle set for some savings, that is possible. If you would like more straps with clips, just let us know.

For pricing and to order, go to our ORDER page.