Tripod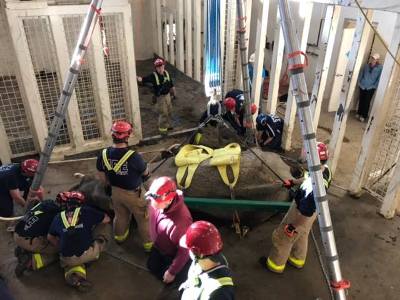 Our tripod can be a valuable asset for zoos that need a temporary lift point in areas where none currently exist. In the photo to the left, it has been set up in a stall to assist the elephant in rising. With a maximum height of about 18 feet, this will accommodate almost any animal encountered in a zoo facility. While the "stance" of our tripods can be built anywhere from 16 degrees up to 30 degrees, the wider stances are recommended to give adequate space between the legs for the xxl patients.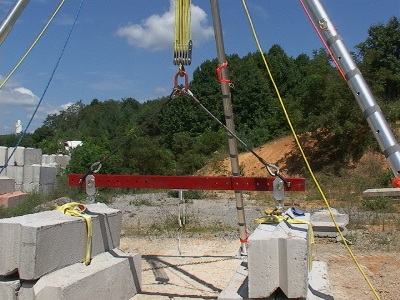 Prior to our sending out our first tripod to a zoo, while we were confident in the capabilities of our design, we conducted a load test just to make sure. At a local concrete plant (Stuart Concrete in Floyd Virginia), we loaded our XXL Bar, XXL Pulley, and the tripod with concrete blocks totaling 12,000 pounds. None of the components showed signs of fatigue either during the test nor in an inspection following the test. Because these loads exceed the normal 4,000 pound limits normally found in domestic animals, we have a HD Chain Kit for use between the legs for these higher loads which should be used instead of the regular chain kit normally supplied.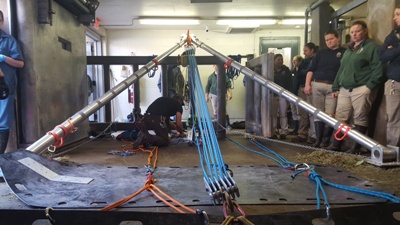 While most often in a zoo setting the tripod may be the first consideration for lifting, for maximum flexibility one might also consider our "Trifecta" which can build a tripod, bipod, or monopod. In this picture, a bipod is being used, in an innovative way, to provide an elevated anchor point for the horizontal movement of a hippopotamus.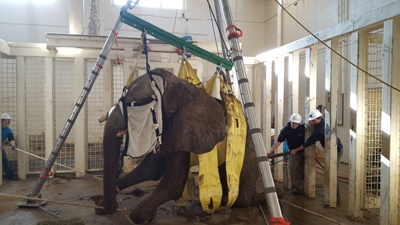 Finally, please do not hesitate to contact us for more information. We work closely with Eric Thompson of EERU and SARA in Kansas in areas of equipment usage, research, and new product design in this very niche market.