XXL Slings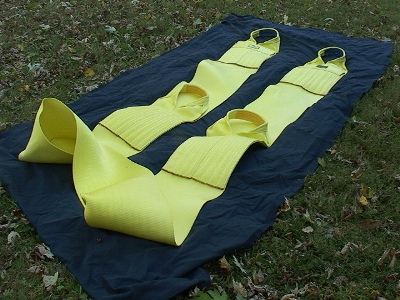 Designed for the very large animals found in zoos, such as elephants and hippopotami, our slings are 12 inches (30 centimeters) wide for comfort. Each side of the sling has two attachment points allowing it to be made shorter to better accommodate different sized animals without having to purchase a number of slings. Based on the largest sized elephant of which we have measurements, we recommend a maximum length of 20 feet as shown to avoid excess dead space above the animal. The secondary loops can be placed to any specifications. In this picture, they are 4 feet from the ends which will allow the slings to be shortened to 16 and 12 feet. All slings are made to order and can be customized to suit any requirements.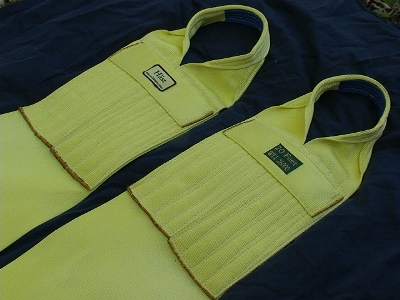 The slings are labeled with the length and the working load limit. We chose a very conservative number of 26,000 pounds. The breaking strength of 12 inch nylon webbing is almost 120,000 pounds. When placed in a "basket" configuration, the weight is then divided by both halves of the sling and thus allows for loads that are twice that number. Therefore, we feel that there is about a safety factor of about 8 in this load rating.

To order, go to our ORDER page and list the required length specifications.